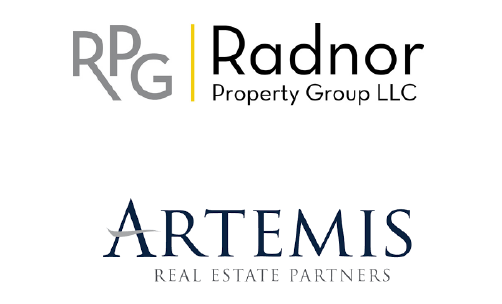 August 10, 2022 (Philadelphia, PA) – Radnor Property Group, LLC ("Radnor" or the "Company") has entered into a programmatic joint venture with Artemis Real Estate Partners ("Artemis") to fund its growing multifamily development pipeline. The partnership will focus on new construction of market rate assets in areas of demographic growth and existing demand, predominantly the Southeast.
"Our programmatic JV with Artemis is the beginning of an exciting chapter for us," said David Yeager, CEO and Managing Partner of Radnor. "Through our process with Baird in seeking the right partner we realized Artemis was the perfect fit for us to grow our multifamily platform. Artemis' leadership, culture and values align with ours and that was an important criterion as we set out to find a partner with a high level of integrity and collaboration. We are delighted with this outcome."
Baird served as exclusive financial advisor to Radnor on this transaction.
About Artemis
Artemis Real Estate Partners is a real estate investment manager based in metropolitan Washington, DC, with offices in New York City, Los Angeles, and Atlanta. Artemis has raised approximately $8.2 billion of capital across core, core plus, value-add and opportunistic strategies. The firm makes equity and debt investments in real estate across the United States, with a focus on multifamily, industrial, office, retail, hospitality, self-storage, senior housing and medical office. Artemis specializes in joint venture partnerships with established, diverse and emerging operating partners and direct investments.
About Radnor
Radnor is a privately held, award-winning real estate development company focused on the multifamily and student housing sectors in high-growth corridors with a specialty in Public-Private Partnerships ("P3″). Since its founding in 1999, Radnor cultivated relationships with colleges, universities, and hospitals in growing educational and medical locations. This "Eds & Meds" concentration resulted in numerous market rate housing ventures expanding Radnor's business model. The company is headquartered in suburban Philadelphia, with regional offices in Atlanta and Hanover. Radnor has developed over 7 million square feet of improvements representing approximately $3 billion of asset value.