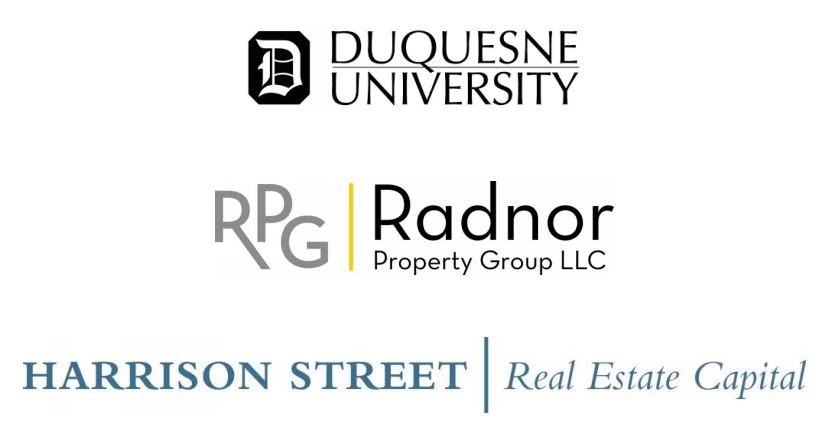 Chicago & Pittsburgh, PA – May 9, 2018 – A new strategic partnership between Duquesne University, Radnor Property Group (Radnor) and Harrison Street Real Estate Capital (Harrison Street), will provide an enhanced, high-quality living experience for Duquesne students living in Brottier Hall, an apartment-style campus residence hall.
The University announced today that it has finalized Radnor and Harrison Street's acquisition of the building, which includes an agreement to modernize and renovate the property. Duquesne's Office of Residence Life will continue to provide resident services, programming and student oversight within the building, in addition to managing room selection and assignment. The partnership will ensure that Duquesne's upper-class and graduate students will have first priority to live in the newly renovated building. The terms for all current and 2018-2019 leaseholders will be honored.
"At Duquesne, we strive to enhance the student experience on every level. This partnership will allow us to create an upscale living and learning environment, while also continuing to provide excellent programming and services that today's students have come to expect," said Dr. Doug Frizzell, vice president for student life.
The redevelopment will include major renovations that are expected to be completed in four summers beginning in 2018, and will serve Duquesne students for decades to come. When complete, Brottier Hall will offer a variety of enhancements. Apartment upgrades will include new flooring and finishes; bathroom plumbing and electrical fixtures; vanities and bathtubs; kitchen cabinets, counter tops and appliances; and new windows throughout the building, among other improvements.
"Brottier Hall is a strategically located asset on Duquesne's campus," said David Yeager, Founder and President of Radnor Property Group. "Our partnership enables us to reposition Brottier Hall and invigorate its prominence as an integral building within the Duquesne community. We are delighted to play a vital role in this renovation."
Christopher Merrill, co-Founder, President and Chief Executive Officer of Harrison Street, said, "Harrison Street is committed to providing students at leading institutions with high-quality on campus accommodations. We are excited to be partnering with Radnor, a best-in-class developer, and Duquesne University, to create a state-of-the-art living space that will benefit the undergraduate and graduate student communities."
Building operations will be managed by Capstone On-Campus Management, a company of student housing professionals that partners with both universities and owners to leverage campus housing to enhance student recruitment and retention and improve student satisfaction and success. Radnor will undertake development management responsibilities and along with Harrison Street will provide equity capital for the venture. Harrison Street is a leading real estate investment management firm and, since the firm's inception, has invested in 222 higher education properties valued at over $8 billion.
Brottier Hall features 314 units and has the capacity to house approximately 660 students in studio, one-bedroom and two-bedroom options. It was built in 1969 by a private developer and was purchased by the University in 2004.
Duquesne University
Founded in 1878, Duquesne is consistently ranked among the nation's top Catholic universities for its award-winning faculty and tradition of academic excellence. Duquesne, a campus of nearly 9,500 graduate and undergraduate students, has been nationally recognized for its academic programs, community service and commitment to sustainability. Follow Duquesne University on Facebook, Twitter and Instagram. www.duq.edu
About Radnor Property Group
Radnor Property Group of Wayne, PA is a leading real estate development company which specializes in complexed urban development projects in Educational and Medical corridors, involving non-profit institutions in public-private partnerships. Over the past 10 years, Radnor has undertaken development projects involving 25 institutions of higher education, all in the Northeast. For more information, please visit www.radnorproperty.com.
About Harrison Street Real Estate Capital
Harrison Street Real Estate Capital LLC is one of the leading real estate investment management firms exclusively focused on the Education, Healthcare and Storage sectors. The firm has created a series of differentiated investment products across multiple risk/return strategies. Headquartered in Chicago with an office in London, the firm employs a 115-person team and has approximately $14.6 billion in assets under management. For more information, please visit www.harrisonst.com.
Media Contacts
For Duquesne University
Rose Ravasio, 412.396.6051; cell 412.818.0234
Ken Walters, 412.396.1154; cell 412.417.8156
Emily Stock, 412.396.1317; cell 412.277.9273
For Radnor Property Group
Sofia Pignitor
Cashman & Associates
215.627.1060 (o) 215.421.9114 (m)
[email protected]
For Harrison Street
Nathaniel Garnick
Gasthalter & Co.
212.257.4170